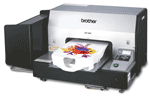 Our new GT-541 "print on demand" inkjet printer prints on most garments in full color, in less than one minute for many designs, with a large 14" x 16" printable area.
Take a Photo send it by Email
we will put it on your Shirts For
Just $10.00 in most cases that includs the shirt

The new Brother Gt-541Garment Printer
Prints on the Garment it's like puting dye on and it will not come off
you can't feel it it will NOT Crack or Peel off

GREAT GARMENT PRINTING IDEAS!!!

Here are some of the endless possibilities for great garment printing.




Jeans

Apron

Mouse Pads

Sweat Shirts
Q. What type of printer is this?
A. The printer is a computer controlled large format ink jet printer that prints directly on to your garments.

Q. Are the prints produced very detailed?
A. The printer produces graphics with up to 600 Dpi. Process screen-printing is approximately 72 Dpi

Q. How many colors will the printer produce?
A. By using the 4-color printing process (CMYK) it can produce over 16 Million colors.

Q. How long does it take to print a shirt?
A. It really depends on the design, but a standard sized 10"X12" design can be produced in about a minute.

Q. What color of garments can it print on?
A.We can print on white and many light or pastel color shirts, additionally some dark color shirts as well.

Q. Can we print on dark color shirts?
A. It depends on the color of the garment. But it cannot print on black due to the printer not having white ink.

Q. Will the ink withstand washing?
A. Yes, we have done extensive wash testing and we have found that the ink is very durable in most cases equal to or better than Screen Printing. and will not crack or peel off

Q. What is the maximum printing size?
A. It is 14" wide X 16" long.

Q. What kind of ink is used?
A. It is a water-based ink developed especially for printing on garments.

Q. What types of fabric can it print on?
A. You can print on a variety of fabric types, however, best quality results are achieved using 100% cotton, 50% cotton 50% poly blends.

Q. Can you print on sleeves?
A. Sure.